Convidamos a visitar a Exposição de Fotografias de Máscaras da Ásia na delegação da Fundação Oriente entre 9 de março, dia da inauguração, às 17h, até ao dia 30 de abril.
As máscaras apresentadas nesta exposição pertencem à colecção Kwok On, iniciada em Hong Kong, na década de 1970, com a recolha de um conjunto de marionetas cantonenses, instrumentos musicais, livros e objectos diversos. Desde então, a colecção foi ampliada pelo sinólogo francês Jacques Pimpaneau através da reunião de objectos originários de um espaço geográfico que se estende da Turquia ao Japão. Em 1999 foi incorporada no acervo da Fundação Oriente.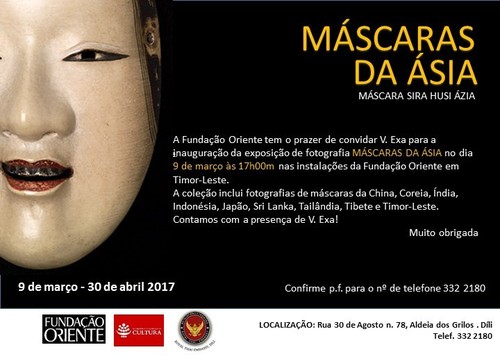 Estas máscaras representam seres sobrenaturais, divindades e animais fantásticos que fazem parte do imaginário das culturas asiáticas. Foram utilizadas em rituais religiosos e, mais tarde, em diversos espectáculos de dança e teatro. A função destes artefactos está associada a cerimónias religiosas que têm vindo a cair em desuso, em particular nas grandes cidades. Embora estas máscaras sejam por vezes despojadas do seu contexto ritual e religioso, estas continuam a fazer parte das manifestações culturais mais populares, tanto mais que foram recuperados por vários géneros de teatro. À semelhança das estátuas nos templos, estas máscaras são objectos sagrados nos quais reside a força dos espíritos que representam.
Para esta mostra foram seleccionadas máscaras da Índia, Sri Lanka, Tailândia, Indonésia, China, Coreia, Tibete, Japão e Timor-Leste, que permitem mostrar a sua diversidade. Algumas destinam-se a cobrir a cara do actor, como as máscaras chinesas de dixi; outras são espalmadas, como muitas das máscaras tibetanas do teatro popular; outras são máscaras-capacete, para encaixar na cabeça, como as do teatro khôn da Tailândia. A função de qualquer delas é expressar o poder dos seres divinos, demoníacos ou animais, que encarnam nos rituais ou nas várias tradições teatrais da Ásia. Permitem ainda caricaturar os tipos sociais que representam, como os personagens da dança exorcista kôlam do Sri Lanka, ou as peças cómicas das danças mascaradas da Coreia.
Visite para conhecer mais sobre este aspecto particular da cultura asiática!
Com o apoio da SEAC, Ministério do Turismo, Artes e Cultura e Embaixada da Tailândia!
We invite you to visit the Photos Exhibition of Masks from Asia in the delegation of the Fundação Oriente between March 9, the openning day at 5:00 p.m., until April 30.
The masks here exhibited are part of the Kwok On collection belonging to the Orient Museum in Lisbon. They were gathered by the French Sinologist Jacques Pimpaneau who started to collect Cantonese puppets, musical instruments, books and various items in Hong Kong, in the 1970s. He then broadened the collection to include objects from other geographical areas, expanding from Turkey to Japan. It was incorporated in the Orient Museum in 1999.
These masks represent supernatural beings, divinities, and fantastic animals from the Asian cultural heritage. They were first used in religious rituals and later in various performances of dance and drama. Its primary functions were associated with religious ceremonies that falled into desuse, particularly in big cities. Though these masks have been deprived of their ritual and religious contexts they continue to be a part of the most popular cultural manifestations, as they have been recovered by different drama genres. Like the statues at temples, these masks are sacred objects in which the power of the spirits reside.
The selected masks from India, Sri Lanka, Thailand, Indonesia, China, Korea, Tibet, Japan and East Timor also display aesthetical, material and usage diversity.  Some are used to cover the actors' faces, such as the Chinese masks of Dixi; others are flat, such as the Tibetan folk theater masks; or even helmet-like, to put on one's head, such as in the Thai Khôn. The purpose of each mask is to express the power of the divine, demoniac or animal beings that incarnate in the rituals of the several theatrical traditions of Asia. Their appearance also strengthen the satirical portrait of the social types that they represent, such as the characters in the Kôlam exorcist dance of Sri Lanka or in the comedic plays of the Korean masked dances.
Come to know more about this specific part of the asian culture!
With the support of SEAC, Ministery of Turism, Arts and Culture and Thay Embassy.